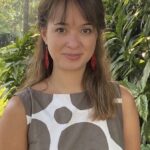 My name is Lucila Kanadani and I am originally from Brazil.
I graduated with a B.A. in Psychology and worked as a psychologist before moving to the USA in 2015. Since then, I have taught Portuguese as a heritage language in a Brazilian NGO, where I also offer storytelling and arts and crafts workshops.
I previously worked as an assistant teacher for a Montessori preschool and a Waldorf school, both in Bethesda.
Outside of work, I love crocheting, storytelling, and music.