Each classroom schedule looks a little different, responding to the age and development of the students. Each day children enjoy the following:
Morning/Afternoon Carpool
Carpool takes place morning and afternoon. This is not only designed for your convenience, but also for the safety of each child during arrival and departure time. Children enjoy playing on the playground with friends, digging in the sandbox, riding motor toys, and climbing on the jungle gym. On inclement weather days, the children are provided space indoors to play. They can take a ride on our indoor roller coaster, play with building blocks, hula hoops, and Legos, and find an assortment of arts and crafts activities.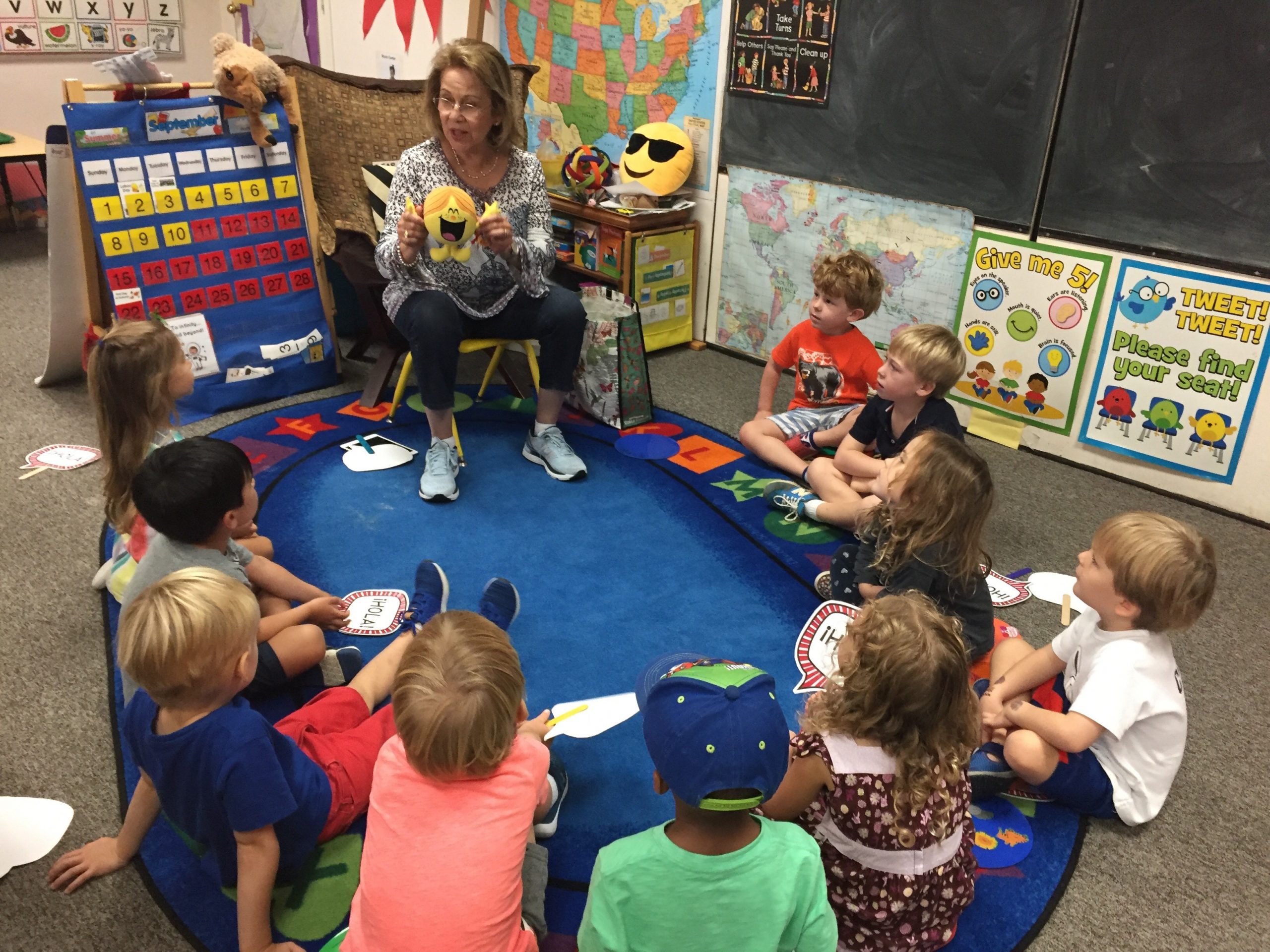 Circle Time
During morning circle time, children come together to sing good morning songs and greet one another. The class goes over the schedule for the day and the weather, shares stories from home, reads a book together, discusses theme of the week and the activities they will participate in.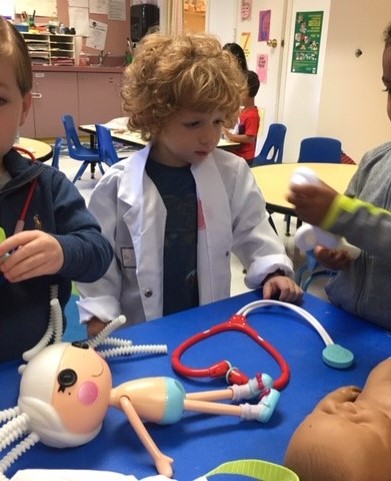 Child Selected Activity Time
Children engage in pre-selected activities – art, sensory table, building blocks, puzzles, dramatic play, etc. The children are free to choose what they would like to do. These choice centers are set up by the teachers and complement the theme/focus of the week.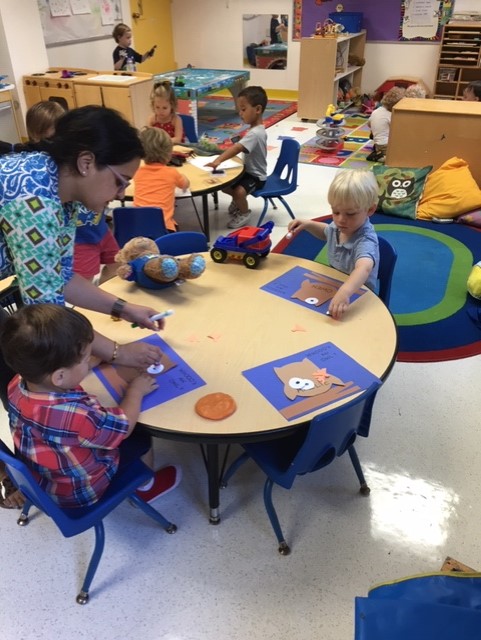 Teacher Directed Activity
In this small group setting, the teachers lead a lesson (a science activity, sorting game, art project etc.) corresponding to the theme of the week and have the opportunity to observe and guide the children's developmental progress.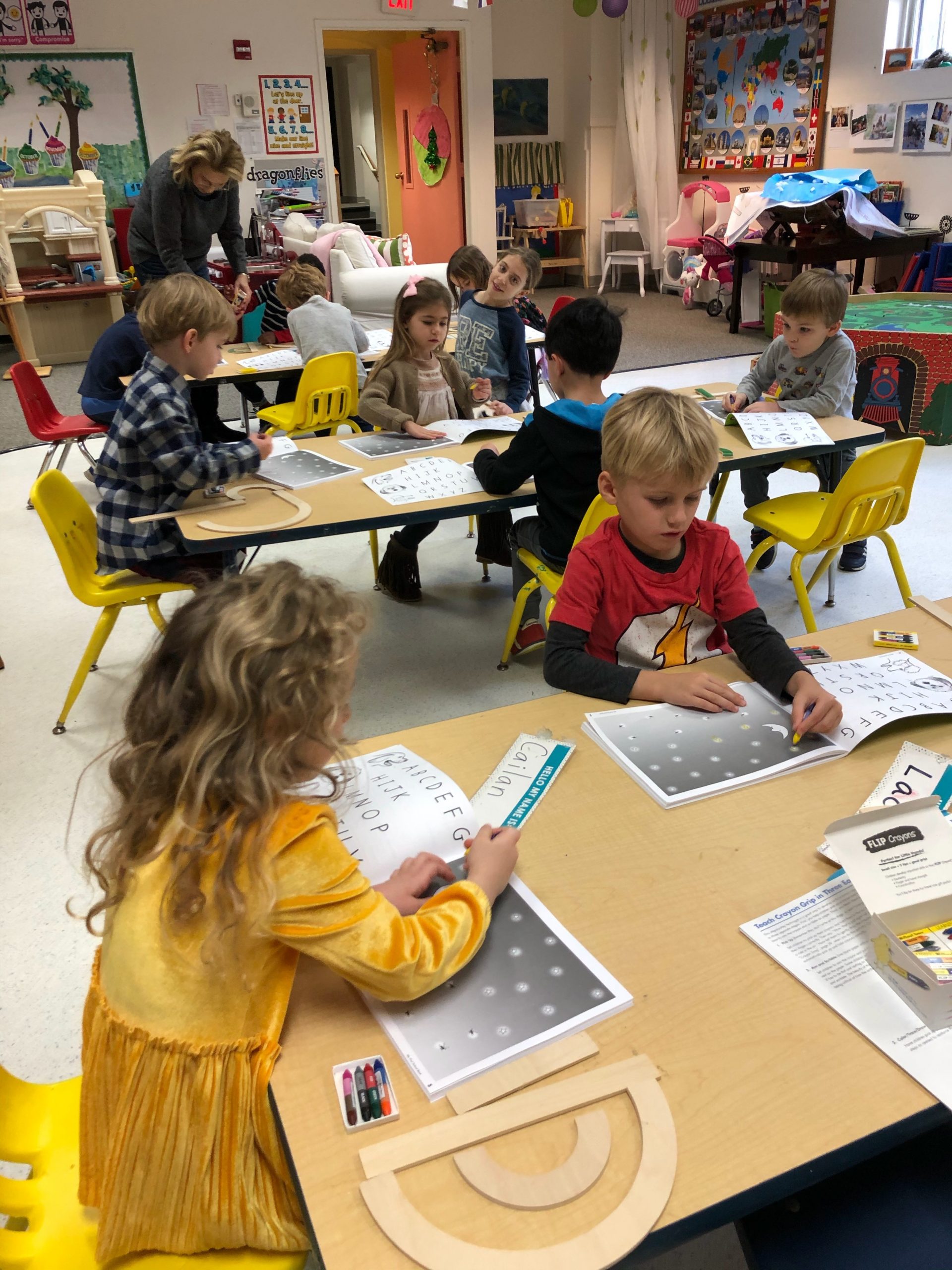 Reading/Writing
Each day teachers read books to their classes and let older children take out books from our school library. Younger children work on fine motor skills with a variety of tools – crayons, dot markers, painting, large plastic tweezers, while older children learn to write letters and use the Handwriting Without Tears curriculum.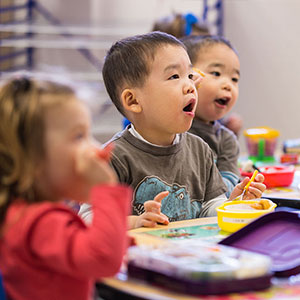 Lunch
Lunch is not only a time to eat, but also a time to socialize. Children bring their lunches from home and sit together with their teachers. This is a time for friends to share stories and make stronger bonds.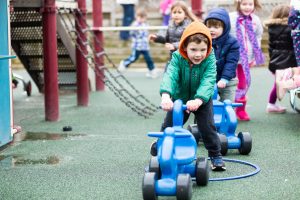 Outdoor Time
Little bodies need plenty of opportunities to increase and improve their gross motor skills. This is an important part of our day in the morning and afternoon.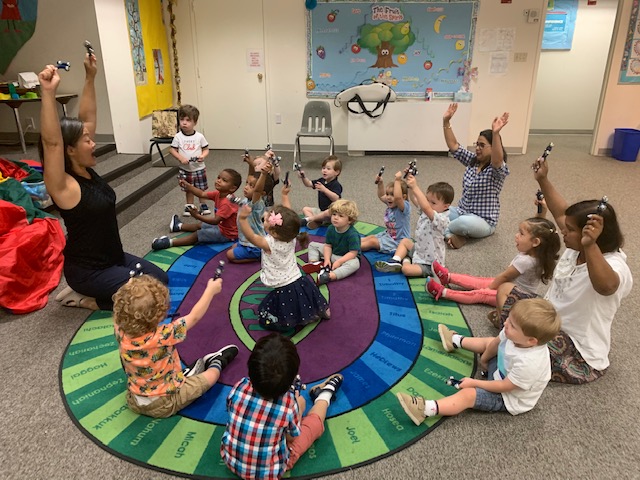 Music
Mrs. Susan McNelis teaches music to our children each week. She received her Bachelors of Fine Arts in Drama from Illinois Wesleyan University. She has 25 years of experience teaching music to young children.
Each music class is filled with energy and fun as the children learn new songs, test out all kinds of instruments, and move their bodies to the rhythm and beat of the music fostering creativity, self-expression, as well as cognitive and physical development.
PE
In conjunction with Just for Kids, Coaches John leads the children through different activities to improve balance and gross motor skills and to introduce older children to such sports as soccer, baseball, and lacrosse.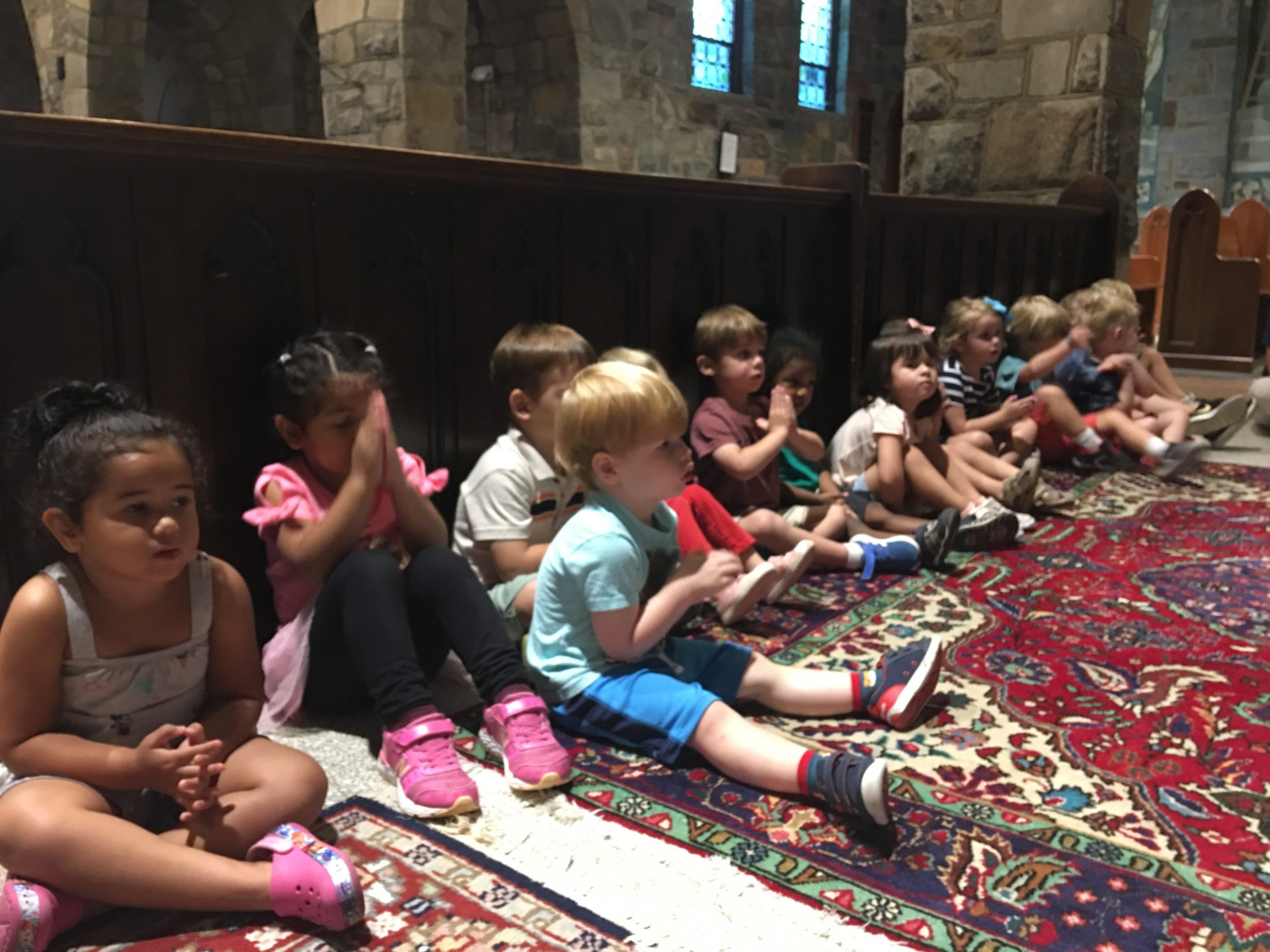 Chapel time
The Church's Associate Rector, Matthew Kozlowski, invites the three and four-year-old classes up to the church for weekly chapel where the children hear Bible stories and lessons, sing songs, and learn that God loves them! He also visits with the two-year-olds in their classrooms.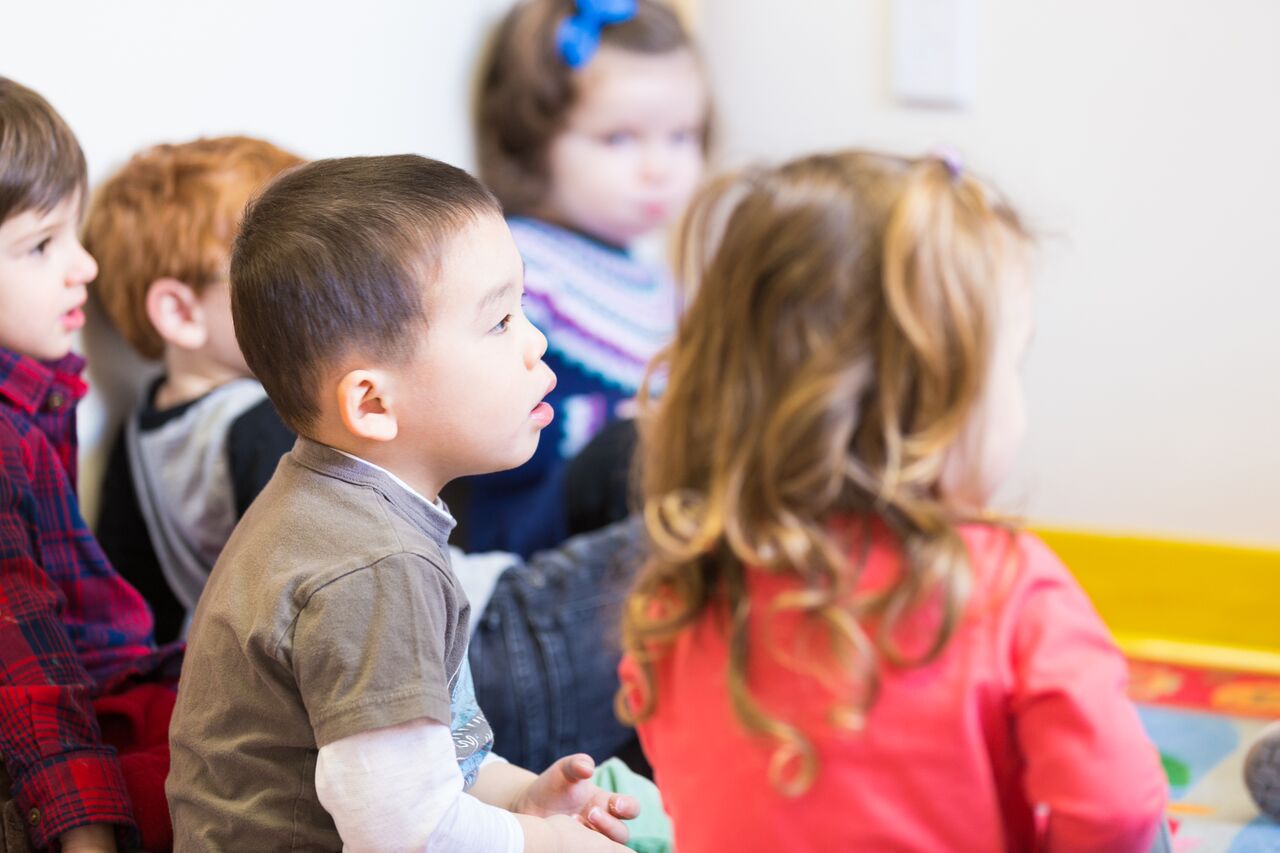 Spanish
Gloria Ginyovszky (Miss G) leads the three and four-year olds through small group Spanish lessons each week. This interactive, fun class introduces students to Spanish through games, songs, and arts and crafts.