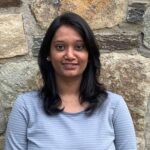 My name is Grace and I am excited to be the Lead Dragonfly teacher this year!  
I grew up in the beautiful middle eastern country of Oman until high school and then moved back to my home country of India. 
From the time I was sixteen, until very recently, I have regularly taught Sunday School for children ages 4 to 10. My dad being a Sunday School Director for 15 years and my mom a teacher herself, instilled in me a love for working with children and managing classrooms with anywhere from 5 to 35 children!   
I earned a B.A. in Psychology and English Literature. During college, I was elected to be in leadership positions such as Christian Ministries leader as well as Vice President of the Student Body.  In the evenings, I began to tutor children from underprivileged backgrounds. I came to realize I loved seeing children learn, grow, and acquire new skills! I then pursued a Master's in Psychology and specialized in Family and Marriage Counseling. Soon after, I worked as a Student Counselor at a private school for 4 years. Being actively involved in  the church, I completed a Masters in Divinity.  All these experiences have equipped me to learn how to make a genuinely positive impact on people.   
I am thrilled to be working at All Saints Preschool this year and look forward to a year of learning, exploring, and fun with the children!