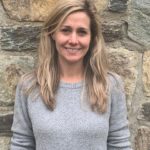 Miss Melanie is a former parent and substitute teacher at All Saints Preschool.  
This year she will provide early literacy instruction and support for our PreK 3 and PreK 4 classes.  She works with students on oral language skills, phonics, and listening comprehension so they have a solid literacy foundation for kindergarten and beyond. She will also be a floater in all the classrooms where needed.  
Melanie holds a M.Ed. in Curriculum and Instruction with an emphasis in Literacy development from the Curry School of Education at the University of Virginia and a B.A in History and Education from the College of William & Mary.  
Melanie has over 15 years of teaching experience at the elementary and secondary levels in the Richmond, Virginia Beach, and Northern Virginia areas. Prior to ASP, Melanie was a Reading Specialist at Douglas MacArthur Elementary in Alexandria, Virginia.  
In her spare time, her favorite things to do are bike rides at the beach and traveling with family.