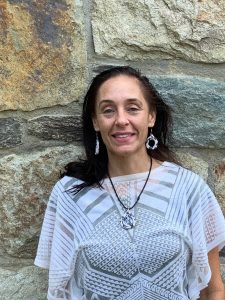 Hello! My name is Vicky Campuzano. Children call me "Mrs. C."
I am thrilled to be teaching the 4s class for the first time at All Saints Preschool. I spent the first part of my professional career working in marketing and communications. But my real love has always been working with children. With the birth of my son, Nicolas, I decided to become a stay-at- home Mom.  I spent every minute enjoying my son and teaching him as much as I could. I was thrilled to welcome the birth of my second child, Julia, and continued being a stay-at-home Mom. I spent a decade actively involved in every aspect of my children's lives. I volunteered in their preschools and elementary schools and also took an active role in their extra curricular activities like the Boy and Girl Scouts of America.
Once my children were both enrolled in elementary school, I decided to return to work. I chose to become a Montgomery County Public School System substitute teacher. I have spent the last 5 years in that role working for many different elementary schools located throughout Montgomery County. It is an honor to say that I have spent the last 15 years working with young children.
My family has lived in Rockville for 20 years. When I am not working with children I enjoy making jewelry, dancing, and running.  This past summer my son and I competed in a fitness competition together. I plan to do many more fitness competitions in the future. I am most looking forward to sharing my artistic, energetic, and creative talents with the children enrolled in All Saints Preschool. I plan to spend the remainder of my professional career educating young children.