Hi! My name is Kate Strathmann and the children call me Ms. Kate. This is my first year here at All Saints Preschool! I had the pleasure of spending the summer of 2021 working for the ASP summer camp and I cannot wait to return in the fall.Just this sp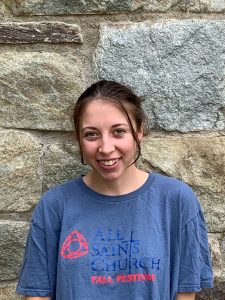 ring of 2021, I completed my Bachelor's Degree in Psychology at Occidental College and I am so excited to get back to working with children post-grad. Throughout my high school years, I spent summers volunteering at Concord Hill's camp for preschool and realized my adoration of children. This continued in the spring of 2021 when I worked as a volunteer tutor for 826 Valencia, assisting in the education of students primarily from under-resourced communities.
I am ecstatic to begin working with the Cubs at All Saints Preschool!